Sensual Photography
W e do more than portrait photography. This year we'll have a variety of images to show. Among them will be many different themes and scenes. As an example:

Places from Long Ago: - A place in time some of you may remember
Chelsea Girls - New York City - More girls from the '70s
In the Park - Central Park Land Bridge -
Past Acquaintance, Greenwich Village -
Past Acquaintance, West 8th Street -
Western New York-
Cloisters: Metropolitan Museum of Modern Art (MoMA)-
Do you need banners, photos and unique Flash or dynamic pages for your adult site or NiteFlirt service? Let us know! We provide very attractive attent-getting erotic imaging for adult style sites.
Sensual Portraiture :
Every person we shoot is unique! We take the uniqueness of their quality, enhance it, bring it forward and display it as it appears before our lens. Your image tells the world not only who you are, but how you feel about being that person within!
This next link is X-Rated, so don't go here if you don't want to see it! But if you're daring, love to tease, like dressing sexy as I do, then maybe you might like this: Dialog of an X-Rated Model!

A Note of Confidentiality
Many of our clients want to be featured on our site and not be recognized! Yes, you can have it both ways. Read on to see how...

Do you like lingerie, leather, lace or even rubber? Bring it along and we'll see that it becomes an integral part of 'Her'.
Express yourself, gaze into our lens and show the world who you truly are... A DarkRose Girl!
Activities, Activities.
Every Tuesday, Thursday and Saturday, we plan to do long session Bondage photography. These will be fetish images with a very heavy slant toward the B&D aspect. Many of the final images will be displayed in black and white, although the originals will still be in color.
Frequently Asked Questions:
FAQ's about DarkRose Photography Sessions
Interview With a Sub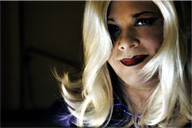 We conduct an interview with one of our subs to gain an understanding of 'True Submission' and what it means to her. Bondage, Submission, Dommes, Ropes, Restraints and Erotic situations ...Coming Soon! Also, some opinions from some of the girls as to how they wanted to appear...read more...

New Makeover Connection !
We have a new makeup artist that works very well with the TG community. Her work is fantastic! Maria visited her at her salon Saturday, December 6 and has never looked sexier! Her makeup is ideal for clubbing since it stays intact for quite a while.

True Stories From Our Members!
We have many stories that will amaze or even astonish you regarding some transgendered situations and excursions. Here's some you may find entertaining.
One TGirl's violent experience in New York City with gay bashers - a very terrifying story as told to DarkRose by Carla... read more
What was it like being a street girl in NYC in the mid-seventies?...read more
The Hunters: Marriage isn't always what it seems.. ...read more..

The Draft Board and Rachael: When the Army calls, do you go? If you read this story and want to know how it ends, drop me an e-mail! story..
Carmen! They just don't make TGirls like this anymore! Heart-stopping antics of a show-off!... read story...